The company held the signing ceremony of the 2020 "safety" and "quality goals" responsibility letter
2022年04月25日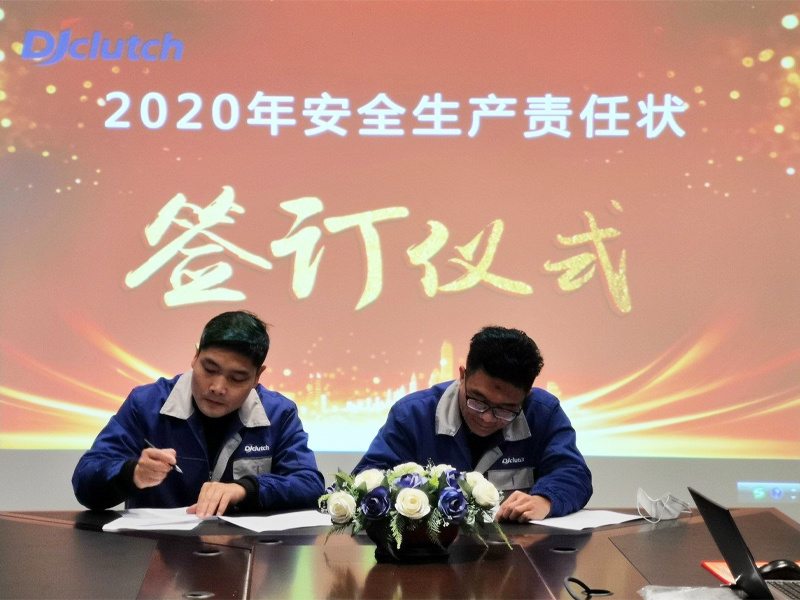 In order to implement the company's safety production responsibility system and strengthen the company's safety production work, on the morning of December 31, 2019, Wuhu Dajie Company organized the signing ceremony of the 2020 Safety Responsibility Certificate in the conference room. The company's executive vice president, department managers, and workshop team leaders attended the signing ceremony of the responsibility letter.
First, Mr. Liu, the executive deputy general manager of the company, signed the "Safety Production Responsibility Letter" with the managers of each department, and then Mr. Xia Wenhan, the manager of the quality department, signed the "Production Team Quality Objective Responsibility Letter" with each team. At the signing ceremony, various safety responsibility goals, team quality responsibility goals, work requirements, reward and punishment measures were announced, requiring all departments to effectively prevent and control various accidents, achieve the company's 2020 safety production goals, team quality goals, and ensure smooth production. proceed in an orderly manner.
Signing the safety responsibility letter is to mobilize all departments of the company to keep in mind the safety responsibility and make a start for the safety work in 2020. All departments should take this opportunity to keep production safety in mind and reflect in their work at all times, do a good job in all aspects of production safety, resolutely prevent the occurrence of major safety accidents, and ensure that production safety and team quality goals in 2020 are fully achieved .
Wuhu Dajie Clutch Co., Ltd.
December 31, 2019
---
On April 1, the "2021 China Automotive Hybrid Technology Summit" was successfully concluded at the Star River Hotel, Minhang District, Shanghai. Dajie Clutch, as the sponsor of this conference, participated in the summit in the form of a professional booth exhibition.
---
On February 4, 2021, Dajie Company held the 2020 annual work summary and commendation meeting. The company's executive deputy general manager Liu Weijun, technical chief engineer Liu Wenjun, general manager assistant Hu Guoguo, technical director He Guanhou, international trade director Zhang Shouchang, management of various departments Cadres and advanced employees attended the meeting.
---