Wuhu Dajie Clutch participated in the 2019 Industry-University-Research Cooperation and Scientific and Technological Achievements Conference
2022年04月25日
On November 15th, Wuhu County held the 2019 Industry-University-Research Cooperation and Scientific and Technological Achievement Conference. Government leaders, university professors and representatives of various enterprises in the county attended the meeting.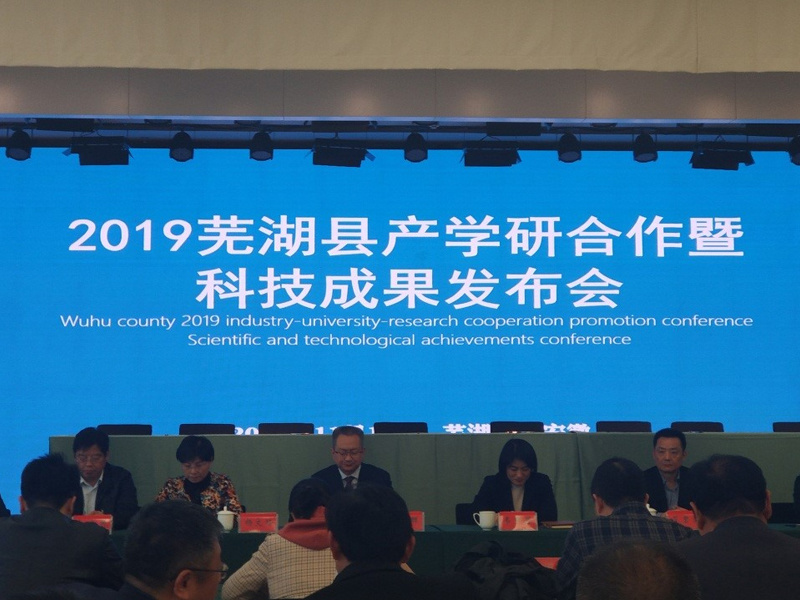 At the meeting, Huang Weiqun, secretary of the county party committee, and Wei Xiufang, the county magistrate, introduced the basic county conditions of our county and a series of achievements in recent years. Dr. Xie Yingjun, secretary general of the National Science and Technology Service Industry Alliance and chairman of the Yangtze River Delta Regional Technology Market Alliance, introduced "How to use the online technology market to build a bridge of industry-university-research cooperation to realize the transformation of scientific and technological achievements" to the guests. Xin Limin, deputy director of Wuhu Science and Technology Bureau, explained the current technological innovation policy.
Subsequently, representatives of the government and enterprises signed cooperation projects with universities. Mr. Liu Weijun, the executive vice president of our company, and Professor Yan Zhengfeng from Hefei University of Technology attended the signing ceremony and signed a cooperation project.
The industry-university-research cooperation project between the enterprise and the university effectively utilizes the good platform resources of the enterprise and the scientific research and technical strength of the university, and strengthens the exchanges and cooperation between the enterprise and the university. score!
Wuhu Dajie Clutch Co., Ltd.
November 22, 2019
---
On April 1, the "2021 China Automotive Hybrid Technology Summit" was successfully concluded at the Star River Hotel, Minhang District, Shanghai. Dajie Clutch, as the sponsor of this conference, participated in the summit in the form of a professional booth exhibition.
---
On February 4, 2021, Dajie Company held the 2020 annual work summary and commendation meeting. The company's executive deputy general manager Liu Weijun, technical chief engineer Liu Wenjun, general manager assistant Hu Guoguo, technical director He Guanhou, international trade director Zhang Shouchang, management of various departments Cadres and advanced employees attended the meeting.
---